Graham Chiropractic and Acupuncture has served tens of thousands of patients over the last 20 years.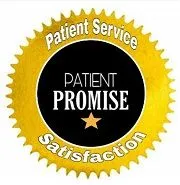 Dr. Vin Isaiah and Dr. Melissa Kucera have treated patients from Burlington, Graham, Mebane and across Alamance County, as well as Caswell, Guilford and Orange counties. We use time-tested therapies and the latest techniques, including FDA-approved technology.
We specialize in delivering personalized, holistic health care for individuals and families. We combine chiropractic treatment, acupuncture, physiotherapy, therapeutic massage and nutritional support in comprehensive, customized treatment plans.
We also provide specialized services such as evaluation and treatment of foot problems, custom orthotic fitting, dry needling, cosmetic acupuncture and more.
We have helped thousands of patients through treatments that:
Reduce and eliminate pain.
Increase mobility and restore function.
Heal injured and diseased tissues.
Boost fitness, energy and wellness.
Find out more about the conditions we care for and the therapeutic treatments we provide to patients in the Burlington, Graham, Mebane areas.
We're Here For You During COVID 19!
Read more on our
Blog